Cleopatra Plus Slot Overview
Cleopatra Plus is a perfectly crafted slot game that features a powerful and exotic queen from Egypt. Her name is Cleopatra. IGT developed the concept to pay tribute to this ancient, yet so attractive lady. Egypt is known for pyramids, so you will find this background to give you a feeling of being in the country. Cleopatra has an interesting history. She was one of the best-educated and strategic-minded rulers of her time. IGT has developed this game to enable gamers who are fond of ancient times to embark on an amazing journey.
Cleopatra Plus Slot Features and Gameplay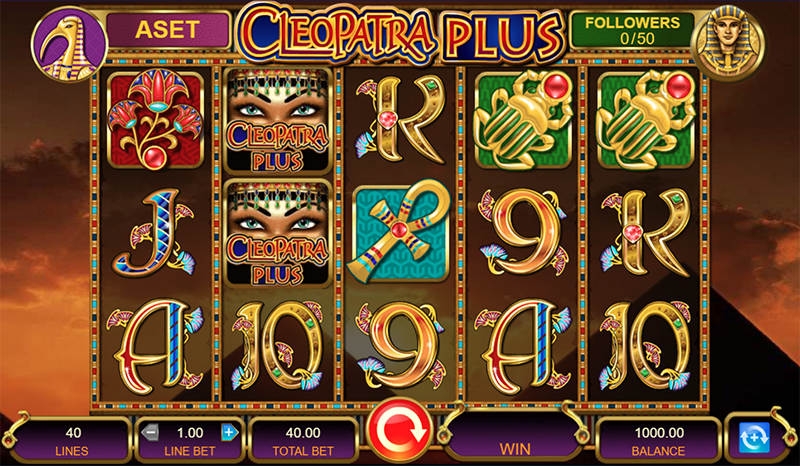 Cleopatra Plus casino game is built with 5 reels, and gamers can play the game using 40 paylines. The theme is based on the traditional Egyptian concepts, among them the pyramids and scarabs. IGT is a reputable provider that offers slots of high-quality graphics. Cleopatra Plus is not an exception, as you will find perfect symbol designs and artwork. The symbols have also been decorated with pearls and gold to give them a royal touch that is synonymous with the Egyptian reigns. The soundtracks have been perfectly selected. They have adopted the Middle Eastern style with a background full of praise for Cleopatra.
From a visual perspective, the game features smooth and varied animations. This slot has an RTP of 96.5%, which is quite suitable for a Canadian or any player who is chasing some lucrative returns.
Some of the symbols that you will encounter as you launch the game include Egyptian artifacts like Anubis, Hathor, Amun, Aset, Bastet and the normal card icons. The highest paying symbol is the Cleopatra Plus slots logo that can earn a player up to 1,500x upon a wager if five of them appear on the reels.
Why You Should Play Cleopatra Plus Slot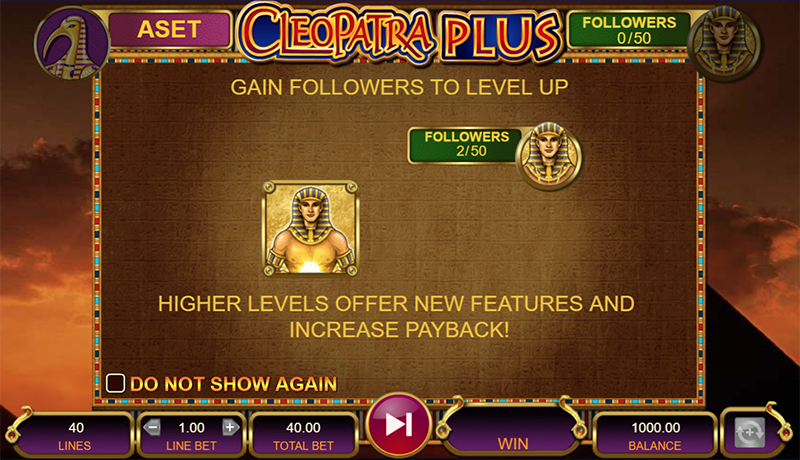 One unique feature about Cleopatra Plus online slot is the Level Up option. This feature works in the sense that you attain bonus symbols through the accumulation of followers. Every follower represents a bonus symbol. More bonuses will help you unlock awards of additional followers. As you graduate to higher levels, the game rewards you with multipliers, free spins, bonus maps and stacked wilds. The ultimate reward in the Level Up mode is the Super Spin feature.
During the main game, a player is awarded a 2x if they land two or more wilds on the reels. The Cleopatra Plus symbol, which is the wild, also transforms into a stacked wild with a 2x reward. In this case, a 2x multiplier will pop up together with stacks of 10 wilds.
Free Spins
Another benefit is the free spins feature. During gameplay, you simply have to activate three or more scatter symbols to get this reward. Their positions on the reels do not matter. A screen will pop up with a bonus map, prompting you to select one of the items among the list that includes Giza Pyramids, the Valley of River Nile and Alexandria. This map has an averagely similar price, but you can get a big win from the seventh and eighth levels of the Giza Pyramids.
The rewards associated with free spins include a 1x multiplier, but it improves as you progress in the game. The bonus symbols that you will earn in this case depend on the followers that you will have gathered. As you pick the map, you can stash your followers in a single place, but you can have them scattered in various locations.
The value of the location of your followers is that it determines the number of free spins that you will earn. For example, some locations will get you 30 free spins together with a 5x multiplier. Other locations can reward you up to 50x.
A significant characteristic of the Cleopatra Plus slot game is that it is built with an internal memory that allows a player to track the progress of the game. Even when you end the game, the history will be available for you to retrieve. The last spin in the free spins feature is known as the super spin. If you launch this feature, the system rewards you with a whopping 350x multiplier upon your bet.
Cleopatra Plus Slot Paytable
| | | | |
| --- | --- | --- | --- |
| Symbol | For 5 | For 4 | For 3 |
| Cleopatra | 1,500 | 250 | 50 |
| Deities | 400 | 75 | 20 |
| Scarab | 400 | 75 | 20 |
| Eye of Horus | 200 | 50 | 15 |
| Lotus Flower | 100 | 40 | 10 |
| Ankh | 100 | 30 | 10 |
| A | 75 | 25 | 10 |
| K | 50 | 20 | 5 |
| J-Q | 50 | 15 | 5 |
| 9-10 | 40 | 10 | 2 |
Cleopatra Plus Slot Strategies and Tips
Cleopatra Plus has a slightly different type of gameplay when compared with other slots. The Level Up feature is the little disparity. The first step is to set the amount of bet. Just like the other normal slots, the game prompts you to select between a minimum of 40 coins and 1,000 coins per spin. The next step is to spin the reels and watch out for the results. Depending on the game symbols that you match, you will have your rewards according to them.
More About Level Up Feature
The Level Up feature is part of the Cleopatra Plus gameplay. Your role is to guide Cleopatra, who is the queen of the land, so that she can collect as many followers as possible. More followers lead to more rewards. For instance, the gamer can advance to new levels, getting the opportunity to explore ancient Egypt and collect more bonuses. The game screen bears a meter that shows the number of followers that you have gathered. For you to Level Up for the first time, you must collect up to 50 citizens.
Still in the Level Up feature, you can unlock the map that has more items that include Giza Pyramids, Alexandria and the Nile River. Every item offers you more rewards. As you advance in the game levels, you are entitled to more followers as well as bonus symbols. Lucky gamers who win free spins can gain multipliers upon their wagers.
Since you are out to win cash money, this slot offers you the chance to play for real money. In every casino where you will play, the system will prompt you to register an account and deposit some cash for which you will place as a wager. There is also the demo mode where players can simply visit the game site and spin the reels without placing any bet. This is to allow you to learn the rules before you can spend money. In the autoplay mode, you can launch this slot by setting the number of reels, and the game system will run the game without any interference.
About the International Gaming Technology Software Provider
IGT is one of the most innovative software companies in Canada and across the globe. It was started in the 1950s as a provider of land-based casino games but gradually transformed into an online provider with a change in technology. Today, IGT is listed on the New York Stock Exchange, but the headquarters of the holding company is based in the UK.
For the many years that IGT has been in business, the company has focused mainly on corporate social responsibility. The stakeholders have been alert to the fact that the customer comes first, thus maximising environmental and economic responsibilities. As a result, the provider has amassed a considerable market share and developed a significant competitive advantage in the gambling industry. Most of the games offered by this company are designed to play on both desktop and mobile devices. However, there are little download versions of the games, implying that gamers can play instantly on most of the products.
Some of the popular games offered by IGT include:
Fortress of Fortunes
Dungeons and Dragons
Wheel of Fortune
Monopoly
Fantastic Fireworks
Ghost Busters
Da Vinci Diamonds
Final Word
If you are fond of games that take you back to an ancient civilisation, Cleopatra Plus is what you need. It features massive paylines, promotions as well as bonus items. The Level Up option provides a unique touch which you will not find in many slots.
Cleopatra Plus Slot FAQ
Is it possible to play Cleopatra Plus on mobile?
Yes, you can play instantly as long as you have a mobile device that supports Android, iOS and Windows operating systems. You do not need to download Cleopatra Plus slot to enjoy the moment.
roll up
What is the procedure of depositing money to play this slot for real money?
Depending on the country where you live, you can find a casino with safe banking protocols where you register and submit your banking details. The payment platforms also vary depending on your place of residence.
roll up
Can I be offered free spins while playing the Cleopatra Plus slot machine?
Yes, the game will reward you 5 free spins for a start if you land 3 or more follower symbols. A player earns more free spins as they advance in the Level Up.
roll up
Is there an option to play Cleopatra Plus for free?
Yes, you simply scroll to the top of this page and launch the free play without any registration.
roll up